Recent Discoveries

Posted:
June 26th, 2007, 2:41 pm
Finally had a chance to photograph some of my recent finds. I've only been to one show since moving - that will change soon!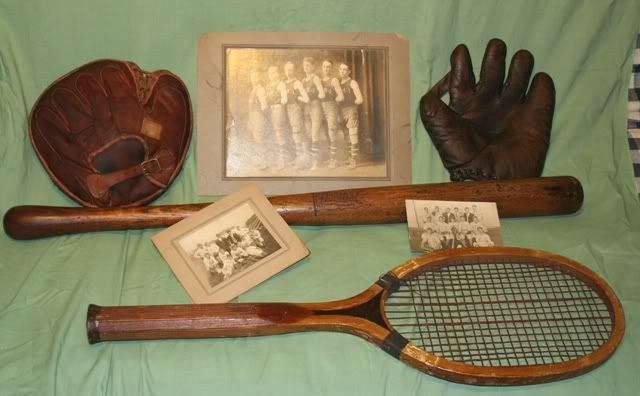 The pickups include 3 great old photos - one large basketball team picture and 2 smaller baseball - one is small cabinet and the other is a postcard. Both of the baseball are for the team "Ben Hur A.C." - can't figure out the basketball one yet. Bat is 34 inch Pennant model with cool knob. When I picked this up the knob wasn't great but someone I know does some pretty nice work on bats and made this one look great.

The old tennis racket is a Wright & Ditson with all the strings still intact - don't usually find them like that. Two gloves were sweet pickups - one is a Reach 1 inch web very similar to the one that burker72 posted in his "This Week in eBay Gloves Section." - mine isn't as nice as the one that sold but lining is nice, no ink, leather is soft. Other glove is buckle back Spalding glove in awesome shape. Leather is soft and supple, stampings are visible - tag is great!