Here are some shots I took last night while enjoying a little September baseball. Our hometown team, the Columbus Clippers (AAA-affiliate of the Cleveland Indians in the International League) are in the post-season playoffs, facing Scranton (the top New York Yankees farm club).
Maybe next time I'll have a
real
camera, instead of my cell phone!
Last year Columbus opened a gorgeous new downtown retro-styled stadium (I love this ballpark!). Placed around the main concourse are about a dozen permanent displays, featuring information on playing positions, history of the game and- the reason for this post- vintage equipment and gloves.
It's an interesting display. Some of the gloves and bats are reproductions, some are vintage. The fingerless glove is obviously a reproduction, as is the Akadema Lou Gehrig firstbase mitt and that super slean looking lefty split-finger. The "outfielder" display with the photo of Enos Slaughter actually features a vintage JC Higgins Slaughter-endorsed glove. A couple of others that I didn't get pictures of were a Higgins Bob Feller model and a Caprico Jackie Robinson.
The displays look like this: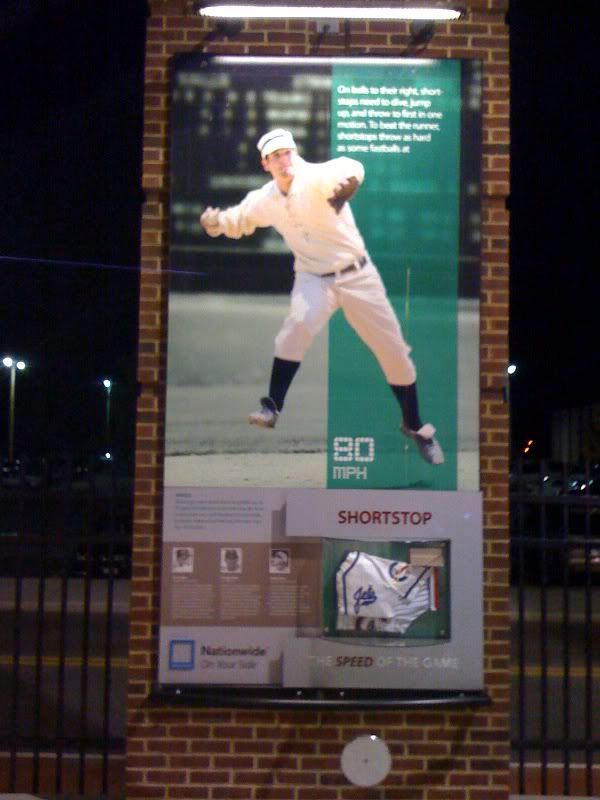 Here are close-ups of some of the equipment displayed: