There were plenty of great gloves this week, including a few unused gems.
Up first this past week is the unused 1910s Diamond brand G0 model. As far as this one goes, well the pictures say it all. For $1191 this seems like a bargain, considering the condition, its age, unique coloring, and that it comes with a box - although I'm not much for boxes. My only guess is that Diamond is not at the forefront of most collector's list, regardless, this was one beautiful glove. It might be a while before we see another one that compares...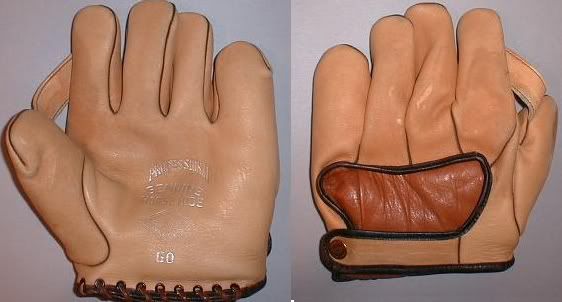 Next, and sorry to be repetitive (again), is a Wilson A2000 that sold for just over $640. Needless to say, the A2000 is among the most important lines of glove in our hobby. So it is hard to imagine, but I think this is the first one in this section of the site. I notice the word "adjust" on the back of the web. Was the intent for the user to adjust the lacing of the web? Not sure if that is something I've seen before.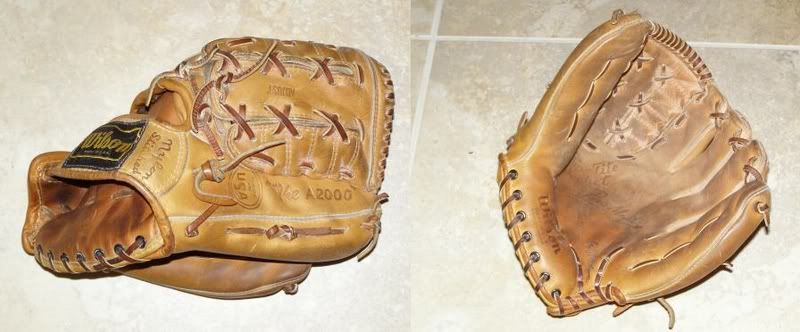 Other interesting gloves this week...
A.J. Reach Babe Ruth "Home Run Special" RF3. $565.
Rawlings GJ-67 Two-Toned Roberto Clemente model. Absolutely mint. Not bad for an import. $300. Also of note, a Mantle GJ99 in mint condition went for $229...gulp???
D&M First Baseman Mitt with the Decker Patent. The Decker Patent seems to be more common among catcher's mitts, making this a bit of a rarity. Nice patch, good condition. $264.
And lastly is a Spalding Berra personal model catcher's mitt. I was really surprised at the price of this one, $260. Then again, I'm pretty sure I've only ever seen a couple of these come up for bid.