It goes without saying we won't see too many gloves like the Diamond brand glove that MVALZ mentions in the previous thread, but that one is still up for auction...So as far as gloves that sold last week, we saw a handful of nice white gloves.
First of course are the crescent padded fielder's gloves. These gloves were in absolutely mint condition except for the work of a mouse. Not sure if the Harvard name is a brand name stamp or if maybe these were school property. The gloves went for a little over $1100 and are in good hands.
There were also a couple of terrific white buckleback first baseman mitts that went as well. The first one shown below was an unidentified manufacturer, although the word "American" could be seen at the top of the pocket. This glove sold for $227. This one is a beautiful display glove, including a very clean buckle and great leather (including the piping). As I suspect with many white gloves, the back side is probably the best for display with the pocket often somewhat discolored from use.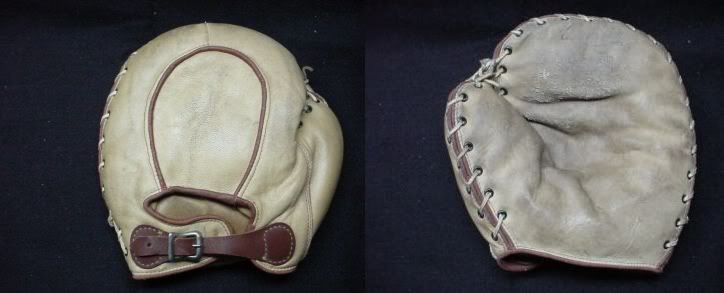 And finally a white Reach first sacker's mitt. This one went for a little more, $247. I think I like the other glove better from an asthetics perspective, but I also think that most in the hobby would pay a premium for a glove where the manufacturer can be identified.