From the long line of Rawlings Geo Sisler model we have a nice version here that sold for $201. In particular, I like the webbing, using a combination of the laced web and the leather strap across the top of the glove. The patch and leather all seem to be in good shape, making for a quality glove.
Among my favorite endorsed models is the Wilson Rogers Hornsby models. Specifically, I like the simplicity of the web and clean design on the back of the glove. This one sold for a reasonable $178 on 19 bids.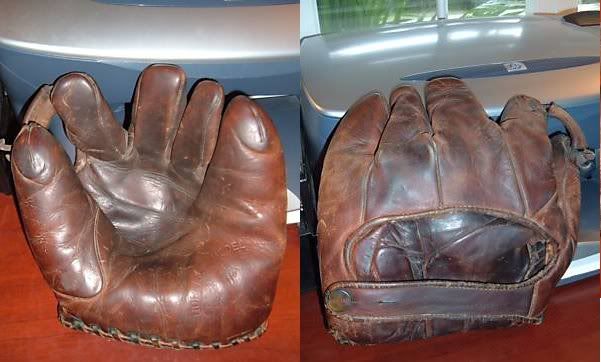 Ok, this is probably the surprise of the week...I'm not sure I've ever seen a Hack Wilson model sell for just $153 (on 7 bids). This is a Spalding buckle back model in decent shape, but the rarity of the endorsement makes up for any aesthetic deficiencies. I was expecting more, but, you never know.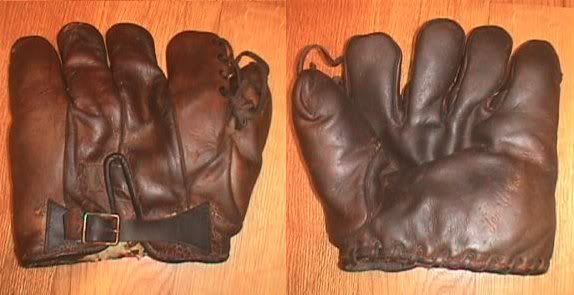 A classic looking lefty D&M 655 basemitt sold for $107 on 8 bids. The seller listed as a catcher's mitt, but I think this is a basemitt. The 1917 D&M catalog lists a 655 Retriever Wapiti model among the top of the line gloves, selling for $7.50, I suspect this is the glove.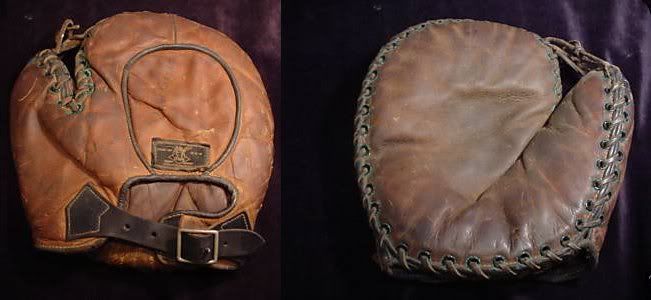 A beautiful MacGregor Goldsmith G111Bobby Doerr sold for $128 on 8 bids. Not many complaints with this glove, and on the upside it features a unique color and popular endorser.

A nearly unused or unused Babe Newcomb model from the Elliott Arms Co. of Kansas City, Missouri. The seller offers a unique story, advising that he bought it from a man who won it in a model airplane competition about 75 years ago. I've never heard of Elliot as a manufacturer, so I assume this is some type of private label made glove. The glove sold for $270 on 17 bids.
Last week we had a similar MacGregor Goldsmith Ralph Kiner endorsed split finger fielder's glove with the piping style web. Last week's offering went for considerably more, but was in modestly better condition. This week it is the bargain of the week at just $77 on 11 bids.