Well, I didn't find these
today
...just some random gloves that I've picked up at antique shows and flea markets over the past year. Kind of a mixed bag and some bargains, all in "as found" condition...
A JC Penneys Rawlings, H-Web, Mike Schmidt endorsed. $5 antique show find. Can't pass up a Hall-of-Famer.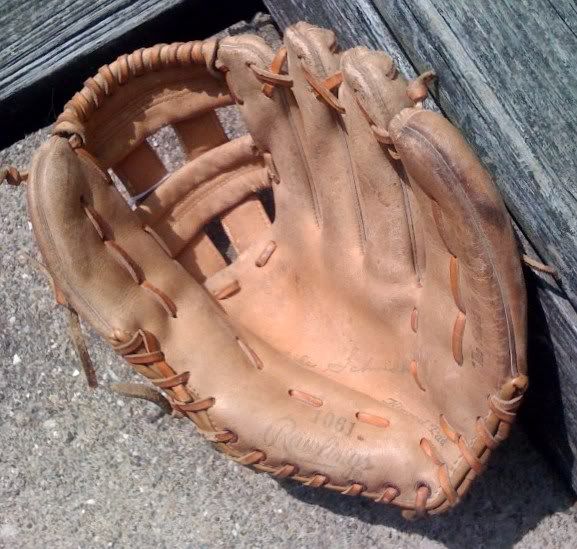 Rawlings R4000, Davey Conception model. I'd been looking for one of these for my Cincinnati Reds collection. Found this one for $30.
Rawlings, TG48 Trap-Eze, Eddie Matthews model. $3 thrift store find (where I never find any good gloves).
JC Higgins 1673 Mickey Mantle model. $25 at antique mall.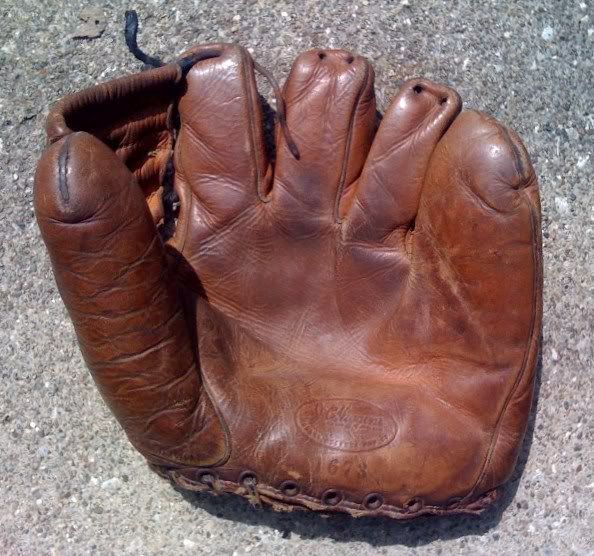 Wilson, unendorsed, A 2600 first base mitt. This was a gift from someone who heard about my glove collecting and contacted me. His mother won this glove in a raffle from the Columbus Ohio minor league baseball team, circa 1950. He said that it had never been used.
OK Mfg. Co. #740 Luke Appling. $15 from a flea market.
Sonnett #A4F Del Ennis (back). Also a $15 flea market glove. Glove seems like it was used maybe one season. Nice patch!
Sonnett #A4F Del Ennis (front).