Evidently I'm not getting any younger because the 50's seem like a long, long time ago. I was only 5 years old when the decade ended, so I honestly don't remember much of it. Most of the star players of that era (Mantle, Mays, Aaron, Mathews,etc.) continued on thru the 60's, though, when I first became a fan of the game. Ah, the gloves. They were some significant chunks of leather, with many innovations over the 40's models. Laced fingers and palms, Snugger wrist straps, thumb and pinky loops... And the webs were V-anchored, Spidered, and Triple Locked. The heels were flatter and narrower and the thumb angled to create a deeper pocket. Best of all, they were big and cool looking.
I've only seen a couple of top of the line Sam Mele models over the years. They were only made in 1954-55. Of course if you were trying to talk your parents into shelling out $25 for one back then, you'd want to point out that a Rawlings Mickey Mantle MM was just a measly $1.50 more. That's the one you really wanted anyway.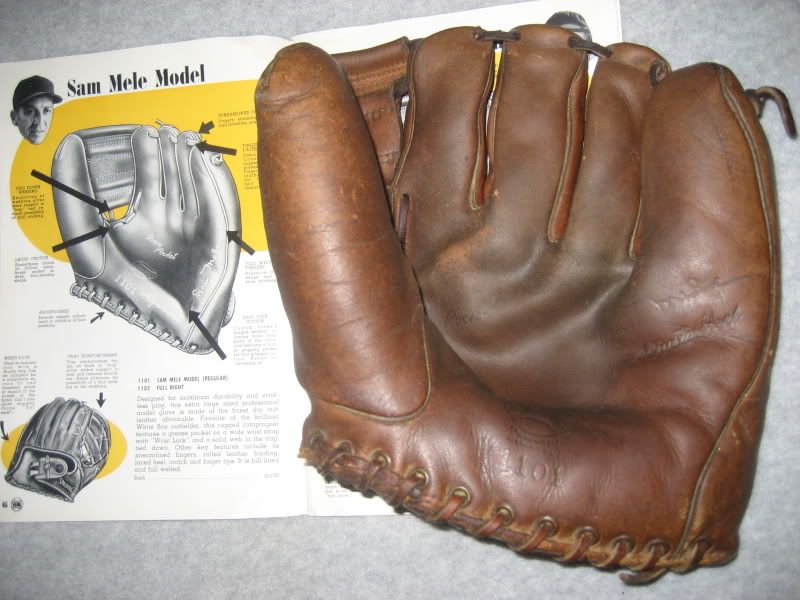 An earlier Mort Cooper MC. No anchored web, Snugger, etc.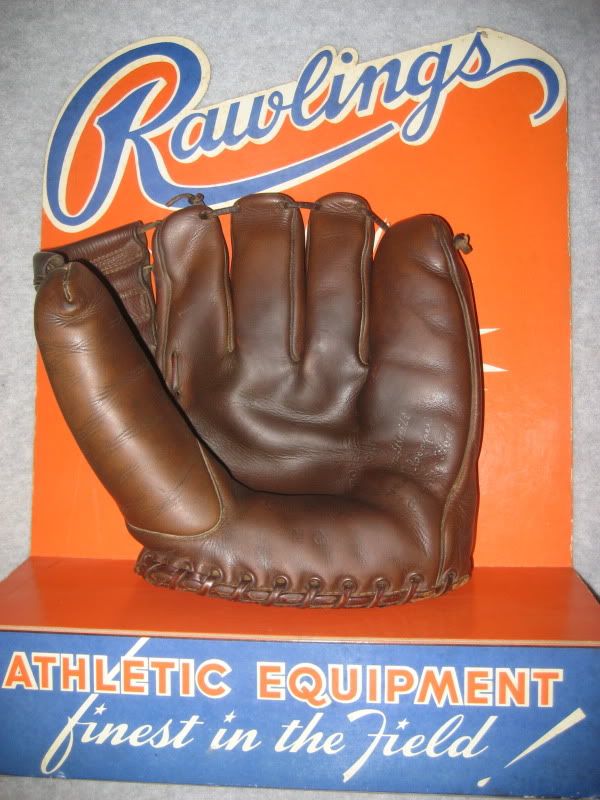 Spider-Webs! Ewell Blackwell G110.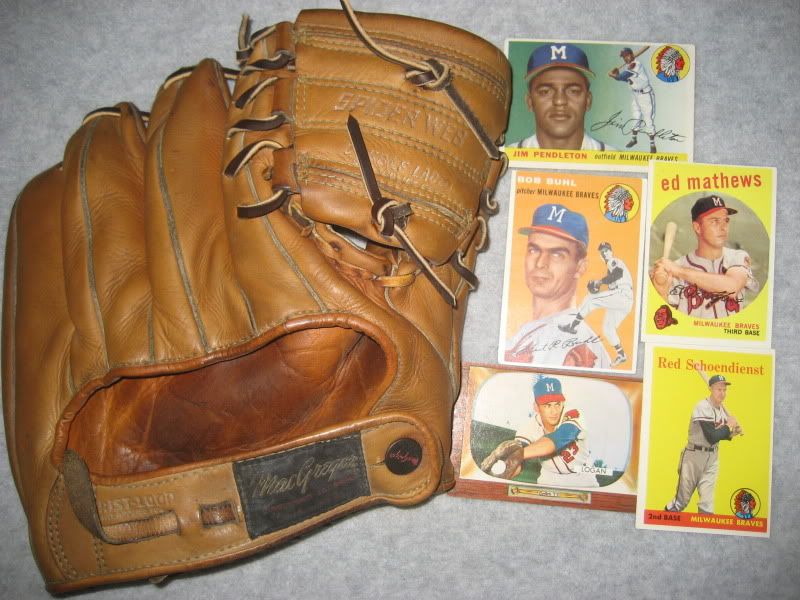 Colavito Spalding 1141. Always thought it was interesting that it's the clone of the HSP and that Rocky and Herb Score were roommates and best friends. Same glove, different labels.
Harvey Haddix HH.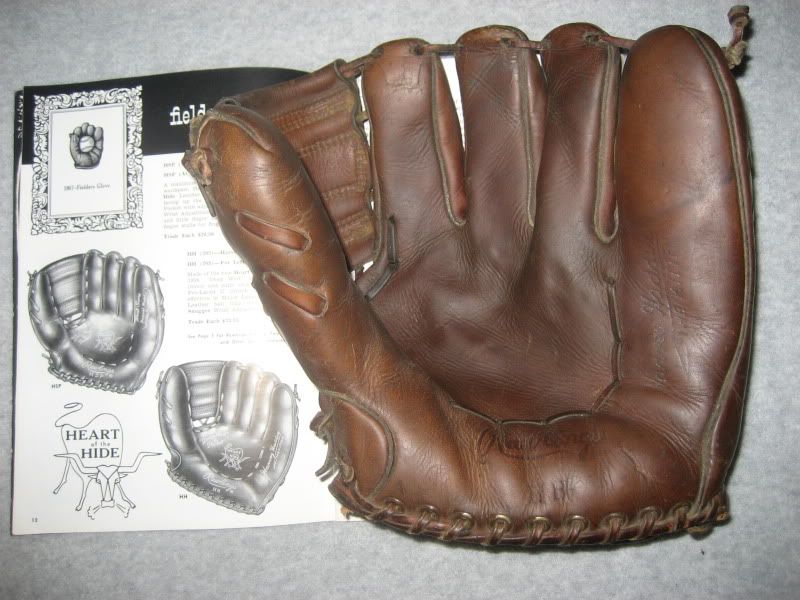 The HH clone, Spalding 1001 Professional Model.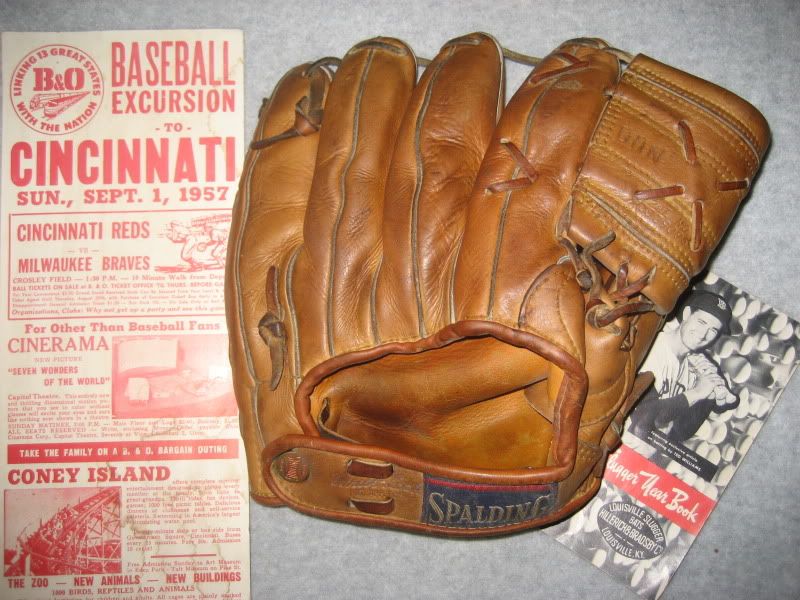 Joe Adcock T95 with the Trapper patch.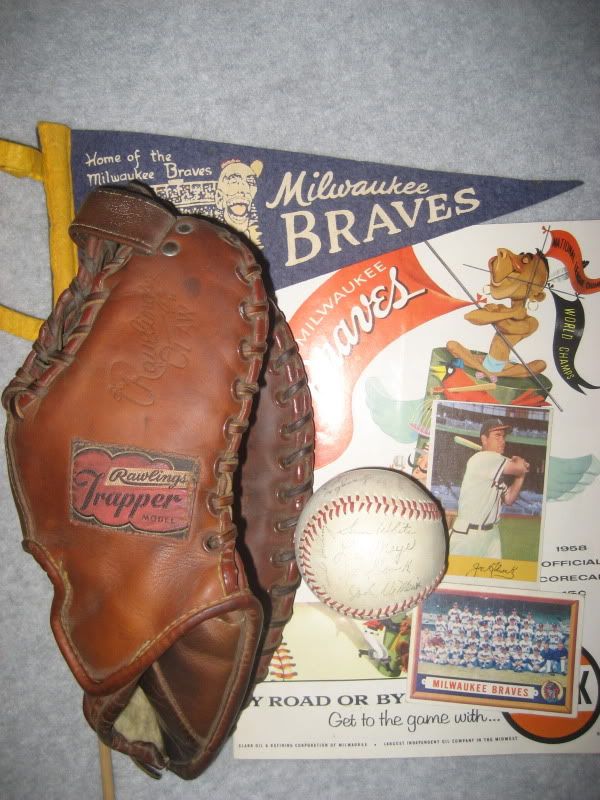 Can't forget the neat 3-finger gloves from back then: Musial PMM, Spalding 1221 Triple Play, Macgregor GB8 Bobby Adams, and Rawlings PM1 with their cool Playmaker patch.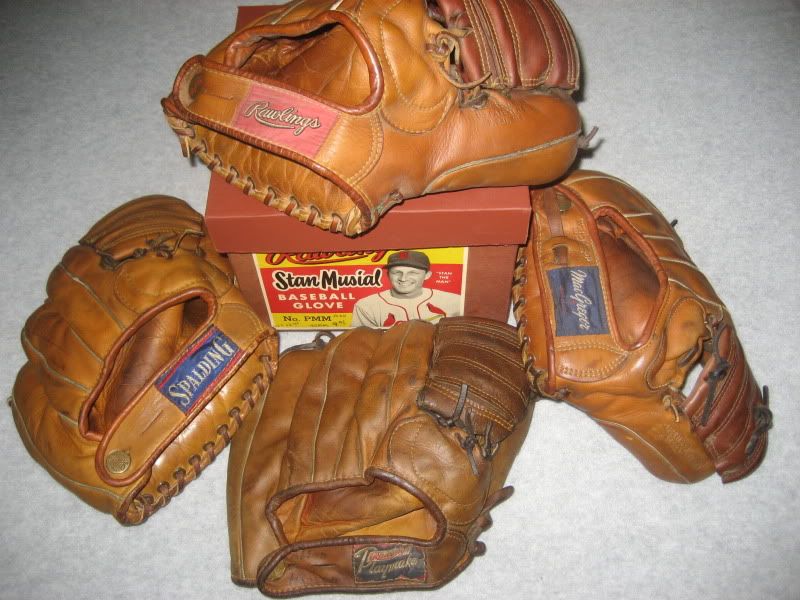 Spalding 1001 again with a Red Rolfe RR and Mr. Shortstop G600. I love the Rawlings cloud patch, too. Where did I find most of these remarkable treasures? My limited edition gray blanket holds the clue...

Anyone else like 1950's gloves? Please, please post them. Otherwise it will be just more of the same old crescent pads and King Patents. Kidding, of course.

Post some 50's!